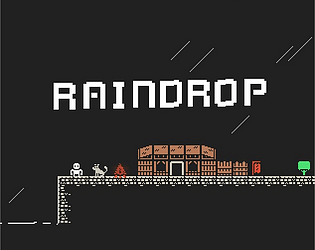 Raindrop
Raindrop is a very small prototype of an adventure game mixed with metroidvania elements.

I was made for Mizjam 1, a game jam with forced asset pack : view my submission page.
I totally ran out of time, started working way too late on the jam but I learned new things and prototyped some ideas, it turned out with totally unexpected results!



Controls :
Key arrows to move and jump
Mouse for hook (once unlocked)
Results :



Credits :
Music 1 : https://www.scottbuckley.com.au/library/reverie/
Music 2 : https://www.scottbuckley.com.au/library/luminance/
SFX 1 : https://freesound.org/people/InspectorJ/sounds/352101/
SFX 2 : https://freesound.org/people/NicknameLarry/sounds/489901/
SFX 3 : https://freesound.org/people/crazymonke9/sounds/418106/